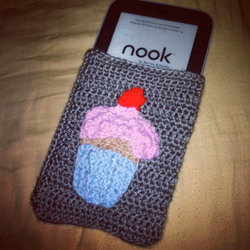 So my new Nook is awesome.
I've been downloading library books, which is how I get to read the fifth book in the "Song of Ice and Fire" series for free.
I've also read a few of the books which are in the public domain.
(this site is great for a conclusive list of public domain books: Project Gutenberg)
The Adventures of Sherlock Holmes by Sir Arthur Conan Doyle, Alice's Adventures in Wonderland by Lewis Carroll and The Picture of Dorian Gray by Oscar Wilde were all great reads and for free, you can't beat that.
I also plan on reading Frankenstein by Mary Wollstonecraft Shelley, Dracula by Bram Stoker and Gulliver's Travels by Jonathan Swift, but I've been caught up with A Dance with Dragons by George R.R. Martin at the moment.
I also crocheted the cute gray cupcake appliquéd case so I can carry my nook around in style!