I am Danielle.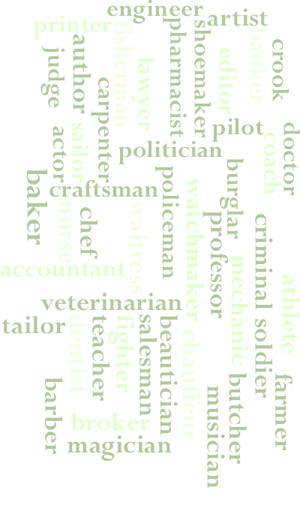 And I have to figure out what to say here.
Something that makes you all interested in what I have to say or talk about later in my blog.
NOTE:
If you are here because you are interested in me as a future employee, please don't mind this personal gibberish and move on to view my Résumé.
Onto things about myself:
I really love working and challenging myself, I am constantly learning new things dealing with art, design, and programming. I believe that they all help make each aspect better, if I learn one new thing in programming, my design can now reflect that option and visa versa. I have high expectations, and although free time and my natural laziness limits me, I try to do everything. Everything that interests me that is.
I want to be an/a:
Actor, Animator, Architect, Art Therapist, Artist, Author, Bookseller, Builder, Cartographer, Caterer, Color Technologist, Contractor, Copywriter, Curator, Entrepreneur, Fashion Designer, Furniture Designer, Gardener, Graphic Designer, Herbalist, Illustrator, Industrial Designer, Interior Designer, Jewelry Designer, Journalist, Makeup Artist, Package Designer, Painter, Printmaker, Professor, Publisher, Sculptor, Singer, Songwriter, Tattoo Artist, Teacher, Textile Designer, Translator, Video Game Designer, Web Designer, Woodworker, a butcher, a baker, and a candlestick maker… everything.