This summer, my cousin Amanda and her new baby came up to visit (mostly to attend my brother's wedding), and since I haven't seen her in a long time, and well I've never been that close with my other cousins on my mother's side, this baby seemed like the first second cousin I had. Which is really the farthest thing from the truth because I have ton of cousins that already have kids.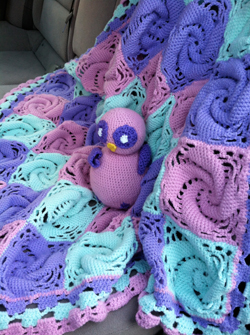 But in my dazed pea pod brain, baby Maliyah seemed like the first baby who needed some lovin' and I was in the crafty mood!
I also really wanted to try the most "experienced" granny square in my new crochet pattern book, which creates the awesome puffy spiral look of each square in the blanket. It's about 3 feet by 4 feet, since I figured she would grow into it and drag it around the house as a toddler (or I can only hope!).
Then, I remembered Amanda posting this little flat crochet owl aplique she found online to her Pinterest board, asking for someone to make it for Maliyah. Did her one better, made a stuffed amigurumi (a word I can not ever pronounce properly, it's a Japanese thing.)
I searched the Lion Brand Yarn website for a pattern I liked, but nothing was exactly perfect so I kinda just guessed and mixed two patterns I found to create this little guy.
(P.S. The Lion Brand Yarn website is awesome for finding new projects and patterns, I don't knit but I heard from my friends that do, that this site is great for knitting projects as well!)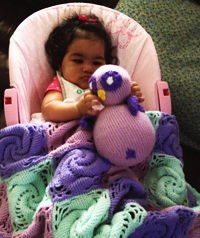 So I finished the amigurumi first, then the blanket came slowly along, one intense square at a time. Then I showed it to my mom (Amanda is her oldest sister's daughter and my father's goddaughter) who thought it was sooo cute. Then I had it in my car for days and weeks and probably a month, thinking that I would go during my lunch break to the post office. And finally one weekend I waited on a silly long line to mail it out to Florida. And Amanda txted me one she received it, which was actually much sooner than I thought it would arrive, about 3 days after I shipped it, with the cheapest priority shipping no less.
Anyway, so you can see Maliyah likes her owl huh?