This is my typical cheesecake recipe, one of the few things I make from scratch every time, since it's so easy.
But I've never made this type of crust before, just thought it up, dying to create something and the guys I work with are all about low carb, low fat, sorta healthy now and especially since it's so close to the new year, I wanted to make something I could get out of the house without people hating me.
So, I didn't have a recipe and I just really eyeballed it. I grabbed two handfuls of mixed nuts (something my father always buys from our local bulk discount store.) and my mother had a huge bag of craisens in the cabinet. Fatty but healthy and definitely low carb.
Ingredients:
1/2 cup of brown sugar
2 cups of mixed nuts (finely chopped)
1 1/2 cup of Craisens (finely chopped)
1/2 a stick of butter
Pinch of salt
2 8oz packages of cream cheese
1/2 cup of Truvia (fake sugar haha)
1 teaspoon of vanilla extract
3 eggs
2 cups of sour cream
Preparation of Crust: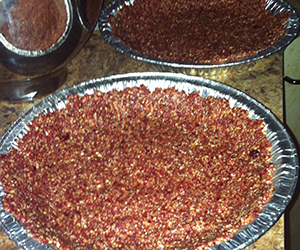 Put nuts and craisens in a blender/chopper (I used my adorable Ninja blender). Chop very finely, the oils from the craisens will make this mixture very gummy.
Mix the nut/craisen mixture in with the butter, brown sugar, and a tiny bit of salt with a mixter or the blender.
I sprayed my pie tins with a little spray oil, then halved the crust mixture in each 8″ pie tin. Then you go at it with your hands, try to make it evenly thick and cover the entire bottom and up the sides of your tin.
Place ready tins with crusts to the side as you make your cheesecake mixture.
Preparation of Cheesecake: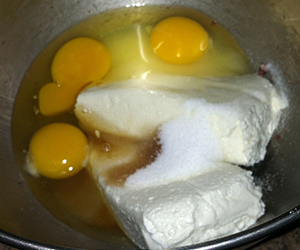 Preheat oven at 370 degrees, because this doesn't take very long.
Beat together all the cheesecake ingredients together except for the sour cream.
Once smooth, fold in the sour cream by hand (This makes all the difference, if you add the sour cream and beat it in with a mixture, your cheesecake will lose it's fluffy texture.)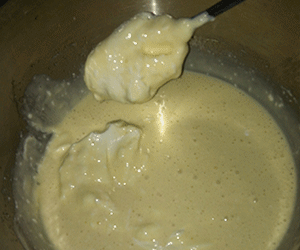 Pour into crust.
Pick tin up from edges about 3 inches from flat surface and let it drop straight down about 5 times. This will bring all the bubbles from the pouring up to the top. And make your cheesecake a tad bit denser.
Bake at 370 degrees for a half an hour.
Shut off the oven after the half an hour, but leave the cake in the oven without opening the door for one hour.
Then remove from oven, let it cool completely before adding strawberry slices.
See my previous attempts at altering my Aunt Arlene's amazing cheesecake recipe:
Strawberry Cheesecake with Macaroon Crust
Nutella Cheesecake with Oreos