Here is just a little summary of some of my most enjoyed web work, some of which are still in use some which were just incredibly good practice!
These few sites have since been taken down by the clients, but I'd still like to recognize my work on them.
When I worked for an advertising company, I picked up a lot of projects and maintenance work on various platforms:
Back in the day I worked with Adobe Flash
And this was one of my very first sites that I ever designed and built as practice with very basic HTML and CSS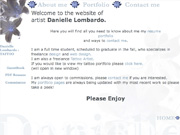 This HTML website was the first site I created with the help of Adobe Dreamweaver for a college course. Before, I used to handwrite the HTML and CSS. Starting out making websites in that way, created the basis for my knowledge and ease of trouble shooting the code which Dreamweaver creates in a faster way.
TO BE ANNOUNCED NEW PROJECT

I am constantly meeting new clients and working in new areas of web design.
My newest commissioned work will be announced and ready for you to view soon.